$19.99
AUD
Category: Self Development
In What A Time To Be Alone, The Slumflower will be your life guru, confidante and best friend. She'll show you that being alone is not just okay: it's just about the best freaking thing that's ever happened to you. As she says, 'You're bad as hell and you were made with intention.' It's about time you r ealized.   Peppered with insightful Igbo proverbs from Chidera's Nigerian mother and full of her own original artwork, What A Time To Be Alone will help you navigate the modern world. We can all decide our own fates and Chidera shows us how, using a three-part approach filled with sass, wisdom, and charm.   1. Learn how to celebrate YOU - decide your self-worth, take time to heal and empower yourself in this messy world.2. Don't worry about THEM - avoid other people's demons and realize that everyone is protecting themselves from something - no matter how aggressive their method.3. Feel the togetherness in US - sustain and grow healthy relationships and avoid toxicity in your friendships.   Own your story. Create your own narrative. Read this book. #WATTBA ...Show more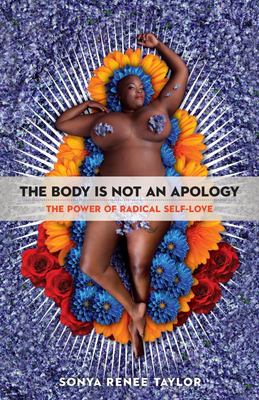 $32.99
AUD
Category: Self Development
In a revolutionary departure from everything we've been told about body-positivity, The Body Is Not an Apology founder Sonya Renee Taylor explicitly makes the connection between radical self-acceptance and social justice.Systems of oppression thrive off of our inability to make peace with bodies and dif ference. When we develop the ability to honor difference and radically accept ourselves, we have the capacity and desire to apply those skills to the larger world. Radical self love not only dismantles shame and self loathing in us, but has the power to dismantle global systems of injustice, because when we make true peace with our bodies, only then do we have the capacity to truly make peace with the bodies of the others. The purpose of this book is to get us to stop treating our bodies like cars, to stop acting as if our minds are not part of our bodies. Reading this book will move us beyond these fraught and compartmentalized lives, where we easily forget that we are whole humans having whole human experiences in our bodies. ...Show more
$34.99
AUD
Category: Self Development
In This One Wild and Precious Life, Sarah Wilson explores the central disorder of modern existence: disconnection from ourselves, disconnection from community, disconnection from the preciousness of life on this planet  This One Wild and Precious Life is a journey of the soul, a case for why we need to cast off our too-tight psychic apparel and step bravely into the uncertainty of 'giving a fuck', the whirlpool of finding purpose, and the perilousness of connecting fully, passionately and unequivocally to life again. Sarah's journey pivots from her own anxiety and feeling of disconnection, as she takes the reader on a three-year odyssey to reconnect with the life she feels we are losing via a series of hikes around the world. Throughout, she brings together science and spiritual understandings ('East meets West'), following in the footsteps of artists, poets and philosophers, to amplify the conversation that the world wants and needs to have right now. Elegantly written and uncannily prescient, this is the perfect book for this difficult era of climate carnage and COVID-19, that goes well beyond the data and the political toing and froing, a compelling argument for turning collective crises and shared malaise into rocket fuel for personal and social transformation. And a better world.   ...Show more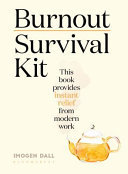 $24.99
AUD
Category: Self Development
Work can leave you frazzled o but it shouldn't. What you need is some sane advice to get you through. Your body aches. Your brain feels like a mouldy wrung-out dishcloth. You can barely get anything done and, hang on, why are you even doing this anyway? Is there something wrong with you? Nope. You're j ust burnt out. Burnout Survival Kit offers practical advice for when things are already bad. There's no mystical magic about unleashing your inner corporate superhero, no weird productivity diagrams, and certainly no crap about working 'smarter'. Instead, this is the calm inner voice that you need, served with a sense of humour on the side. As well as helping you to take time to ground yourself, there are brilliant hacks for all the causes of stress and anxiety, from how to approach networking (no one likes it) to practical advice on sleeping better. And the jokes help too. This may not be a cure, but it really does offer instant relief and give you the chance to take a breath. So whether you're just starting to burn or fully scorched to a crisp, rest easy. You've got a Burnout Survival Kit. ...Show more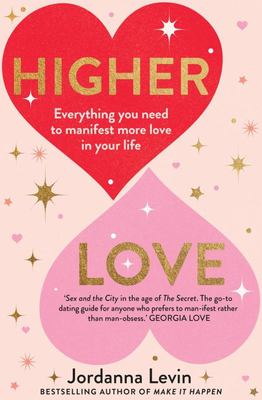 $32.99
AUD
Category: Self Development
The dating bible for woke women from the bestselling author of Make It Happen, with practical advice to help you approach relationships mindfully - while still feeling empowered and whole.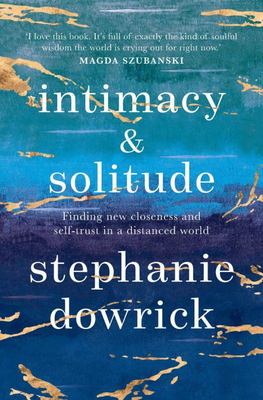 $29.99
AUD
Category: Self Development | Reading Level: near fine
Social distancing under COVID has thrown us more deeply into our intimate relationships, and kept us achingly apart from family, friends and others. Stephanie Dowrick's classic Intimacy and Solitude is the wise guide we need to help us find our personal ground, whatever challenges we face.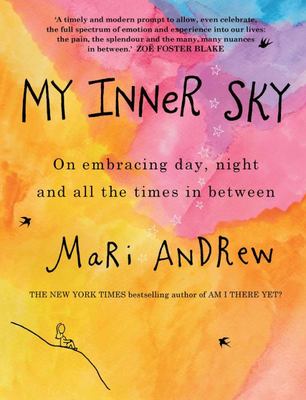 $29.99
AUD
Category: Self Development
A whole, beautiful life is only made possible by the wide spectrum of feelings that exist between joy and sorrow. In this insightful and warm book, writer and illustrator Mari Andrew explores all the emotions that make up a life, in the process offering insights about trauma and healing, the meaning of home and the challenges of loneliness, finding love in the most unexpected of places-from birds nesting on a sculpture to a ride on the subway-and a resounding case for why sometimes you have to put yourself in the path of magic. My Inner Sky empowers us to transform everything that's happened to us into something meaningful, reassurance that even in our darkest times, there's light and beauty to be found.   ...Show more
$22.99
AUD
Category: Self Development
Every culture rests on a bedrock of folk wisdom handed down through generations. The pronouncements of philosophers are homespun by our grandmothers, and find their way into our common sense: what doesn't kill you makes you stronger. Do unto others as you would have done unto you. Happiness comes from within. But are these 'truths' really true? Today we all seem to prefer to cling to the notion that a little bit more money, love or success will make us truly happy. Are we wrong? In The Happiness Hypothesis, psychologist Jonathan Haidt exposes traditional wisdom to the scrutiny of modern science, delivering startling insights. We learn that virtue is often not its own reward, why extroverts really are happier than introverts, and why conscious thought is not as important as we might like to think... Drawing on the rich inspiration of both philosophy and science, The Happiness Hypothesis is a remarkable, original and provocative book - ancient wisdom in our time. ...Show more
$29.99
AUD
Category: Self Development
Unplug, relax, and return to the simpler life with these easy, step-by-step ideas for your favorite cottagecore activities including baking from scratch and easy container gardening.Returning to the simpler life has never been easier. If you're craving the aroma of freshly baked bread, spending more tim e in nature, or seeing the sunlight filtering through homemade curtains, then cottagecore is for you!The Little Book of Cottagecore helps you make simple living a reality with delightful cottagecore activities you can enjoy no matter where you live. Whether you're interested in baking pies from scratch, basic sewing and cross stitch, gardening, beekeeping, or making candles and soaps, this book is full of fun, hands-on activities that make it easy and enjoyable to unplug from modern life.Full of step-by-step instructions and homegrown inspiration, you'll find fun, practical ways to enjoy rustic and relaxing cottagecore activities in your everyday life. ...Show more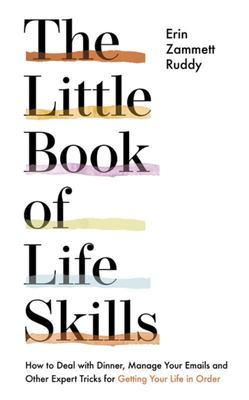 $35.00
AUD
Category: Self Development
With tips from leading experts in every field, The Little Book of Life Skills is the ultimate guide to solving the trickiest tasks in your day, making life easier with more time to do things that bring you joy. We all have areas of our lives that make us feel disorganised, unprepared or stressed out. F rom creating a calmer morning routine to setting yourself up for a good night's sleep, and everything in between, there are easy and proven ways to do things better. Whether you need advice on how to end an argument, iron a shirt or keep your inbox under control, Erin has spoken to experts including Arianna Huffington, Gretchen Rubin, Rachael Ray and Dr Oz, and condensed their wisdom into easy to follow steps for all of life's simple and not-so-simple tasks, such as: - Working from home effectively - Keeping a houseplant alive - Unplugging from your phone - Walking into a room with confidence, and many more The Little Book of Life Skills offers simple strategies for streamlining your life. It's the perfect guide for anybody who wants to get their life in order, be more efficient throughout the day and finally learn the best way to fold that tricky fitted sheet! ...Show more
$32.99
AUD
Category: Self Development
We all want to be happier, more successful and less stressed, but what really works? From improving creativity to building confidence, self-care to self-esteem, forming better habits and feeling happier, Fix Your Life debunks the fads and explores the real science of self-help. Can you learn to make b etter decisions? Or break bad habits and form new ones? What should you eat to feel happier? How do you learn a skill faster? Does mindfulness really work? Dispelling mental health myths and self-help fads, here is the truth about meditation, making smarter choices, addiction, CBT, Tai Chi, success, diet, healthy relationships, anxiety, antidepressants, intelligence, willpower and much more. Full of the latest research and ground-breaking evidence, packed with useful advice, this book really could fix your life. ...Show more
$19.99
AUD
Category: Self Development
You've got this is packed with straightforward and inspiring advice that encourages the reader to enjoy life more by being kinder to oneself. When people find themselves asking 'why don't I have what others have?' Domonique shows us that so many of the things they punish themselves about are things they already have A home filled with laughter, a child's love, good health that lets them live life to the full, compassionate friends, there is much to be thankful for.   Youve got this shows the reader how to be generous to themselves gaining more time and energy to enjoy the things that really do matter. It invites the reader to make simple changes to the way they think: changes that will make their lives happier leaving them feeling relaxed and calm, instead of stressed and overwhelmed. Turning our minds to what we have rather than what we don't have will bring back the joy of living. ...Show more